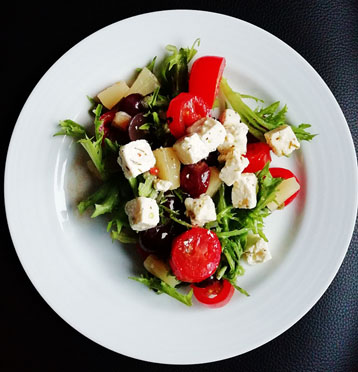 The vibrant color of the blackcurrants makes the whole table feel fresh!
Ingredients
200 grams New Zealand Blackcurrants, frozen
1 tsp white sugar
1 tsp white wine vinegar
Your favorite vegetables, such as finely chopped mint leaves, 400 grams of peeled tomatoes, and 4 pieces of finely chopped onion
Salt and pepper to taste
Method
Add the white sugar and white wine vinegar to the frozen blackcurrants fruit and heat for 3 minutes over a low heat.
When the juice of the berries starts to flow and the sugar dissolves, remove it from the heat.
Let the mixture cool and then add all of the vegetables and mix thoroughly.
Let it stand for about 30 minutes to allow the ingredients to blend, then add salt and pepper to taste and mix again to even out the taste.
Scatter the mint leaves over the top for a tasty garnish. Enjoy with a well-chilled Sauvignon Blanc or other white wine.
(Recipe from Sophie Grigson's, Organic Cooking)
Comments are closed.